Ben Gannon is a fictional character from Stealth series. He is an American English pilot in the U.S. Navy. Ben was too part of special Talon squadron together with Henry and Kara. But after time, team grew up. He is very often described; he has two personalities, and likes to break rules.
Benneth Gannon

Full name:

Benneth Gannon

Nicks:

Talon 1, Benjamin

Species:

human

Gender:

Male

Age:

Stealth - 30

Stealth 2 - 32

Appearence:

eyes - blue

hair - brown

Nationality:

American/English

Class:

pilot

First appearence:

Stealth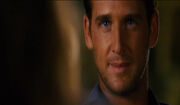 Ben appears in the movie like sure, cold and logic pilot. He is mainly trusting his human instincts and is ultra stubborn about anything what he is doing. In the early line of story he looks quite arrogant and doesn't admit own mistakes. He acts like he is the one who knows everything best for their situation, and likes to show he is the number one, not like machine. He is too very paranoid of imagination talking machine could be his teammate. Ben likes to break the rules when it's needed. When it shows up Edi doesn't want to respect and obey him he gets quickly angry. He isn't very patient, and dislikes "babysitting" of Edi. Ben was too seen flirting with other women on the party. With story passing by Ben discovers more and more his human vulnerability is still stubbornly trying get Edi back. With Russian fighters ahead he accepts Edi to fight together with him. When AI's wing is damaged he still follows orders and tries to help Edi. Saying that when he gave him his, he will keep his own. This shows he has sense for fair acting. Later in story he becomes softer and even smiles on actions f his new friend. With his big stubbornness he is capable of anything for his friends, when he saves Kara from North Korea. In the end he finally shows some emotions.

After two years his nature changed a lot. He is now more caring, jolly and sees things in better light. He too admits his mistakes because of Edi. This change is visible for all other characters, and all of them say he acts ore like when they were on the school. Ben is still very stubborn and this time evens more rebellious. When he tries to help Edi's relationship with Kara. He learned by himself to forgive. Ben too became very protective and caring for Edi and Keith like his new friends. He has now too sometimes strange sense for humor. Ben's personality has two forms - One is from the times at school when he was jolly and enjoying life just like he could. Second one is result of NAVY training. When he forgot on jolly nature and became more straight and arrogant.
Ben is the main character of story in the movie. He is one of the chosen pilots to pilot new planes called like "Talons". They were training with their new machines, and in result their captain George Cummings sends them on the USS Abraham Lincoln. Ben is very content with their results, but captain isn't so kind. Before they will leave to the carrier, team is trying to guess who will join them like their next wingman. And later they visit a disco. Where Ben disappears with a foreign woman. Kara is seen shaking a head on it. He was leader of their trio team, until new AI piloted plane joined them. Ben wasn't very pleased with their new wingman, and he feared that Edi will replace him after time. And from the war will become a sport, because they only use drones for fight. He was together with Henry and Kara told to take care about Edi and train him in flying. On the fist mission, Ben showed Edi how to break rules, and not be punished for it. Even when he didn't want it, or even didn't realize it, AI copied this habit. Their first together mission showed that Ben likes to risk and show what he is made of, to be on the top. He visited Tim in hangar of the carrier, curious about what happened with Edi after lighting strike. They didn't spent a lot of time on the carrier, because Cummings sent them on the trip to Thailand. Even when captain wasn't really with Ben's behaving in action. Ben was still proving that he doesn't want to use machine in fight, and doesn't trust Edi. And he thinks that this machine needs more training before going to action.
In Thailand he spending free time with Henry, Kara and Thailand woman, in what was Henry interested. There is revealed Ben loves Kara but doesn't want to ruin her career, so he stays away. In the evening they are together seen talking about Henry and how they deals with relationships. Ben after while says he is going to try a night life in Thailand. When they are called back on the carrier.
Ben is the only one from the Talon trio who hasn't any siblings
He likes to have a mess in his room
Ben loves cats and still wants to get a one
In the movie he was the leader of their Talon team
Just like Kara he likes grape ice lolly
Community content is available under
CC-BY-SA
unless otherwise noted.